Stagecoach have released details of their exciting new Megabus sleeper service that is due to start running between London & Glasgow from next month...
Stagecoach Group is to trial the UK's first budget sleeper coach service between Glasgow and London from next month.
The new pilot service, operated by market-leading budget coach provider megabus.com, will offer passengers their own berth as well as a standard seat for greater comfort during their journey.
Passengers will have access to a toilet, free wi-fi, on-board refreshments and a complimentary overnight pack containing a toothbrush, toothpaste, a bottle of water, an eye mask and a luggage label.
Each berth has a reading light and curtain for extra privacy, as well as a duvet, pillow and blanket.
Fares on the new service, which is being operated with three specially-refurbished articulated coaches fitted with 24 berths and 24 seats, will range from £1 to £40.
The coaches have been safety certified by VOSA and are fitted with CCTV. For additional safety and security, each berth is equipped with a button to alert the driver in the event of an emergency.
The vehicles also meet Transport for London's new Low Emissions Zone (LEV) requirements which come into force in the capital in January 2012.
From next month, customers purchasing tickets online for the existing overnight megabus.com services between Glasgow and London will be given the opportunity to upgrade to the new sleeper service. Bookings for the sleeper coach can be made from 5 September by visiting www megabus.com.
The service will operate seven nights a week to the following timetable:
Depart Glasgow at 23:15 and arrive in London at 07:20
Depart London at 23.59 and arrive in Glasgow at 08:05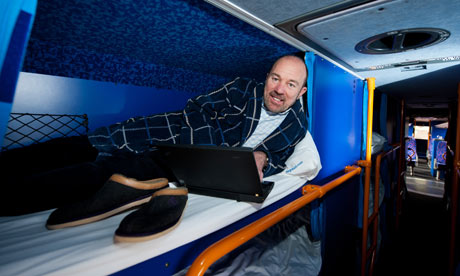 Sir Brian Souter, Stagecoach Cheif Executive beds down in one of the newly refurbished coaches © Stagecoach Group
Stagecoach Group Chief Executive, Sir Brian Souter, said: "Travelling overnight is a great way to save time, and we've already seen growing demand for our night-time megabus.com journeys.
The new sleeper services will offer extra comfort and facilities, but still at excellent value for money prices. "We've always been at the forefront of innovative ways to make public transport more attractive and convenient for people. We believe the best way to find out if it's a service our customers want is by offering them the chance to try it out for real. Travelling direct from city centre to city centre beats the hassle of a red-eye flight from an airport and is a greener, smarter way to travel."
*The coaches being used on this new service are Volvo B10MA's - Jonckheere Mistral bodied 51062 N562SJF and Jonckheere Modulo bodied. 51092 T640KCS & 51096 T96JHN they were refurbished by Plaxton*